Happy Sunday to everyone. Been two plus weeks since making the time to post here as I hope any and all who read these have not gone into full scale meltdown mode after last Tuesday's national and state elections. Yours truly will describe his take on such matters momentarily. One of these days I'll finally get around to finishing what I started on discussing two of the main reasons why this blog was set up-to recap my high school days at the Sonland (aka Noblesville High) as well as my time away from the area where I was at college number one (as I am currently at college number six, which may or may not be a good thing). With the local NFL team having their bye week and not attempting to play any professional football this weekend, I simply could not handle the 1-2 punch of Bears-Bucs on the local Fox station to go with Broncos-Saints on CBS. So the games are turned off and here I am doing what I should be doing more of-writing on the blog I set up a few months ago.
Best thing to do is go topic by topic on what's been going on the last couple of weeks to set the table for finishing up the discussion on senior year at the Sonland with yearbook and other classes….and eventually how I somehow ended up going to a prom with none other than The Prom Date, which was kind of important because without said evening I probably don't decide to make a full commitment to seeing if I could make it out of central Indiana for at least six weeks. (Turned out to be six years.)
Quick thoughts and personal goings on while guzzling down a cherry vanilla Pepsi that was purchased as part of a six for $2.49 deal from the local Kroger:
-as mentioned earlier the local NFL team- Diamond Jim Irsay's Indianapolis Colts-are off this week as they celebrate having a losing record (4 wins, 5 losses) along with keeping their quarterback (Andrew Luck) out of the hospital after he was injured last season. However despite actually winning in Green Bay last week the Sons of Irsay aren't exactly doing themselves any favors in huge part due to a p-ss poor defense that likes to take defeat from the jaws of victory if given enough opportunity. As of this typing only five of the league's 32 teams give up more points per game than the Colts…and three of them (Atlanta, Tampa Bay and New Orleans) are in the not-so-iconic NFC South so that probably doesn't help me or many local NFL fans feel better about "improvement" from last season. Should the team actually want to win their division-the AFC South-and make the playoffs in order to have yet another banner put up in Lucas Oil Stadium for the boys at deadspin.com to make fun of, I suggest they either run the table by going 7-0 or go no worse than 6-1 while hoping the trigger happy division leading Houston Texans actually start losing some games. Personal prediction: the team ends up at 8-8, being in theoretical "contention" for a playoff spot until December before getting eliminated as the season draws to a close in Week 17. IOW a repeat of last season and a reason for Irsay to decide that his head coach Ground Chuck Pagano and his favorite football executive "Big Grig" Ryan Grigson deserve another shot at taking the team to the World title.  IOW yours truly won't be happy, but then again yours truly didn't expect to see a World title after the team jobbed to the Detroit Lions in Week 1 after seeing Theo Riddick do his 1961 Jim Brown imitation as seen here:
The Spin Boys (my name for the Democratic party approving "commentators" of said deadspin.com) had a right to ridicule the Colts defense that day. I don't expect that to change anytime soon. You more than likely aren't winning Super Bowls after losing at home to a Detroit team that was 4-12 the previous season. And probably best to move on from there as the Colts aren't the only losing professional sports team in the Indianapolis metropolitan area these days……
-that other losing team? A team that has not won a league championship since I was in Pampers, those Indiana Pacers.
Currently with a 4-6 record to start out this season, the Pacers are celebrating their 50th year of existence by giving out plenty of bobble head dolls to those attending games and giving out plenty of turnovers for opposing teams to score points in buckets against them. The official sign that the NBA World title was probably NOT coming to Indianapolis in the near future came this week in a "performance" of two straight games (one Wednesday night, one Friday night) against current NBA doormats the Philadelphia 76ers. The 76ers had not won a game all season-barring a Paul George dominating overtime on Wednesday they would have won two in a row against the NBA franchise that attempts to wheel out Thaddeus Charles Young and the un-immortal Lavoy Allen at power forward. Combined with the underachieving guard play of local son Jeffrey Demarco Teague (ask the local Indy media where he went to high school and you'll get a ten minute lecture that equals asking someone what time it is and getting the instructions to build a wristwatch in response) and Pacer executive Larry Bird approved $44 million acquisition Monta Ellis and you have a current dumpster fire in the making that is set as follows: if Paul George plays poorly or doesn't play at all (which was the case last night as he sat out a home loss to Boston with a sprained ankle), then get ready to see a loss. Which means there could be a lot of them on the way before the regular season ends in April. Not good for an organization that considers themselves a championship contender to say the least.
Because I can only stand to do homework so often (more on that momentarily) yours truly decided to watch both 76ers games. It was comparable to getting a root canal. You got a lot of Lavoy Allen (0 for 6 with just two points more than the man who is typing this in 34 minutes of 'action') looking like this when he was on the court:
..and when asked to guard the basically a rookie Joel Embiid with the game on the line Saturday, I got to see this…
…which led to this:
When you job to the worst team in the league, not good. When you make Embiid look like the modern day Wilt Chamberlain after dude had missed his first two years in the league due to injuries, even worse.
TLDR: I now only hope for a .500 record (41 wins to 41 losses) for the year, and I also hope that Lavoy Allen will not be on the team's roster next year. Same goes for Young as he currently gives you 10 points and six rebounds a game for $14 plus million in salary this season. I'd rather have WWE commentator Renee Young for those stats. While Teague and Ellis are arguably as bad a defensive back court duo as one will see in the modern NBA era, the Allen-Young combo at power forward also ensures the team is basically playing 5 on 4 and now has to hope that Rodney Stuckey-yes, Rodney Stuckey-can be a difference maker in actually winning games on a regular basis. Again, not good.
While the season is-no pun intended-young, things do not bode well for this group in areas outside of having larger bank accounts than most rural Indiana counties. Here's hoping they do make the effort to at least reach mediocrity before the season ends. If not, don't expect me to be too unhappy if it's not the case. The signs are there for a 50 loss season and several good seats to get at Bankers Life Fieldhouse at 1/10th the market value come March.
-Personal takes: had three day weekend which meant 4 10 hour days at the workplace…..homework is monotonous as I am looking to transfer to another school as well as another program…..and to show how cheap I am I had no issue not running the heat last night to save money. In mid-November. After all, college costs. On the plus side, Thanksgiving in two weeks. On the negative side, I'm burned out on school. Evens out.
-Lastly my take on Tuesday night's election: no matter what party affiliation one favors (or doesn't favor if they vote independent or do the write-in candidate thing) it was both comical yet unfortunate to see CBS's Son Bob Schieffer (who will turn 80 next year) being carted out by his network to ramble on about the election while asking questions such as (paraphrasing) "if he's got 256 votes, that means he only needs 14 more, right?" when it came to calculating the upset victory gained by Donald J. Trump over New York Times approved Hillary R. Clinton.  All the networks had talking heads that seemed dumbfounded because the polls showing Clinton to be a runaway winner were proved to be worthless; hence these individuals did not know how to react to Trump winning and the Republican party keeping Congressional control.  From a personal standpoint ABC's George Stephanopolous was the worst in this regard, though in fairness his professional association with the Clinton family probably had the dude in full scale arrogance mode beforehand and thus calling him unbiased would be like calling the fictional Norm Peterson of Cheers fame a candidate for the Mr. America bodybuilding contest. And because I am in Picture Pages mode, here's Norm doing what Norm did best: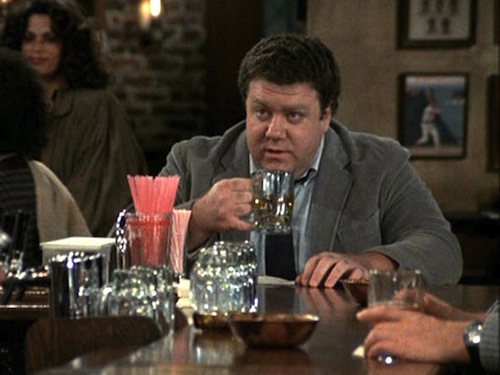 …and because this amuses me, here's Norm from that episode when they got a free kitten for every beer purchased:
Considering my disdain for how the national mainstream media covered this election to the point where many people I knew (myself included) were ready for the damn endless negative TV and radio ads to end, it was nice to see these so-called experts not have a very good night in the office. The hope here is that The New York Times and the Washington Post realize that it is no longer 1933 and Franklin Delano Roosevelt is no longer in office; if they want to send a message of the country needing "to heal" then they need to set the tone themselves. Leave the bad comedy and blogging hot takes to the Spin Boys at deadspin.com. After all, they never claimed to be journalists.
Speaking of journalists good, bad, and mediocre…I'll need to finish up the senior yearbook stuff from the previous post sooner rather than later. Like before the next election. Think I can do that in two years…..though my own track record shows that may be pushing things.
Either way thanks to all who may read these as we continue on to the holidays and the close of 2016.
Jeff