Thursday evening in Central Indiana. Non-paper related homework for class is now complete. Final paper for class due in 51 hours. Answer to "is the paper done?" is the same as "Will a Tom Crean coached Indiana team win the NCAA title this year?" Yes, you figured as much. Call me consistent.
With 90's media man Luke Perry set to take the airwaves in tonight's newest edition of the new epic from The CW called Riverdale, yours truly thought about two topics that personally tied together for that era: Perry's iconic 90's show Beverly Hills 90210 and none other than soon to be profiled in-depth once my final paper gets done….The Prom Date herself, one Sarah Jane Fox (aka the  gorgeous Hot Sonland Chick who is pictured in the blog's avatar with some goofy looking f— in a tux.) Hence this GIF of the Day from when Brenda and Kelly ended up rocking the same gear to their West Beverly prom: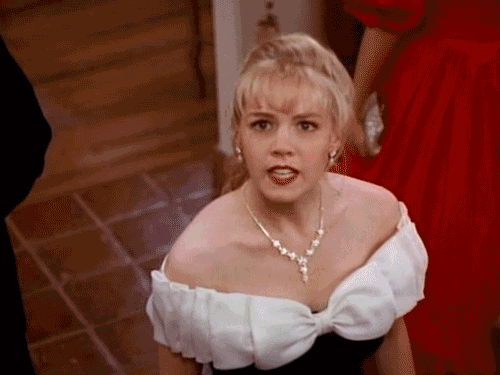 Hey, I say they both look great. Then again I'm the dumba– m—-f—- who's finding 25 year old GIFs to post in place of writing a doctoral paper on qualitative analysis, so of course you also figured I'd have that opinion.
Best wishes to all in cyberspace as the weekend is on the horizon.
Jeff
Instagram: @fitzthoughts
fitzthoughtsblog.wordpress.com