As mentioned earlier yours truly joined Indiana Pacers fans across the globe (or at least from Westfield to West Baden) in getting this Woj bomb via the agent of All-Star forward Paul George saying that they were looking to leave Indiana for greener-or in this case more purple and gold oriented-pastures in 2018. Two problems: George had told people two and a half days earlier at his charity softball game in Indianapolis that he was 'a Pacer' while 2) that NBA draft deal was coming up later in the week…which was NOT good timing for him or said Pacers to make a deal where they could get more than a proverbial poo-poo platter in return for letting said George leave said the Hoosier State's mediocre pro hoops team of choice. Of course the Pacers front office handled it well while fans and media alike had just a bit of overreacting which led to the only PG social media response of substance in awhile to serve as neighborhood watch on the whole deal. Meanwhile the TJ Leaf era begins as yours truly braces for more modern day mediocrity from the former employer of TJ Ford, Troy Murphy and Lavoy Allen.
Nevertheless yours truly is happy to have seen the man known as PG13 for at least a few years in a Pacers uniform, so a few quick GIFs to celebrate what was at one time perhaps the most talented player to wear the blue and gold in the franchise's post-ABA years:
First, a nice 360 jam…..
……followed by a dunk of the windmill variety……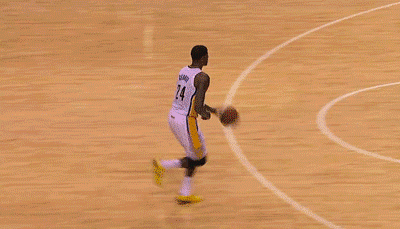 ….and back from the glory days of back to back East finals appearances against Miami:
and speaking of those Heat-Pacers battles, better make sure to add this:
Finally, might as well throw in that dance deal with John Wall:
Best wishes to PG13 wherever he ends up with in the Association.
Jeff
fitzthoughtsblog.wordpress.com