So, I was doing homework last Sunday afternoon when I got this news:
When you openly admit that you're trying to trade your star player at the trade deadline like Indiana Pacers team president Larry Bird did earlier this year, then said star player probably isn't going to be looking to stay with your team long term unless your team makes it a priority to add quality current players to the roster instead of adding former WNBA players to its already bloated and ineffective front office.  Add to that the fact that the team got swept in the first round of this year's NBA playoffs to eventual Finals loser Cleveland (as previously documented here) and then finalize it with Bird "resigning" from his duties at the end of April for Kevin Pritchard to be the lead decision maker in Pacer Land yet still apparently having a lot of say in team matters as a "consultant"….and next thing you know said last weekend team star Paul George apparently finally said 'enough' and had his agent Aaron Mintz get the ball rolling to get the man known as PG13 off of the Pacers ASAP.  While it probably didn't help the 27 year old George's rep by telling people at his own charity softball game the previous Thursday that he was in fact 'a Pacer' nor help the team do whatever the blue f— they were going to do about preparing for the 2017-18 campaign, nonetheless the damage has been done: the Pacers now have a star player not thrilled with the direction of the team, and he prefers to be out of there in the next 12 months-preferably per the media to his hometown Los Angeles Lakers if he gets his way.
Needless to say, I was not thrilled. Made the earlier weekend news about Monta Ellis getting a five game drug related suspension to start next year pretty damn tame by comparison.
Hence a week of full fledged drama with my worthless self routinely checking the Pacers Digest message board for news in the midst of what is as of this writing a 241 page thread of full fledged emotion where people blame everyone from George to George's agent to Bird to Boomer the Pacers Panther to new Laker GM/all time Bird rival Magic Johnson to former WWF World Champ The Iron Sheik for the debacle that has unfolded these past few days. Add the little event called the 2017 NBA draft taking place this Thursday that ended with George STILL on the roster instead of being traded and we now have ourselves a frustrating time of the team being on autopilot while deciding what or what they cannot do with their disgruntled star. But even worse has been the question of who to blame for all of this s–t that has had the team in the midst of the public storm: is it the alleged diva nicknamed PG-13, or is it anyone else that doesn't share the name of four long time media favorites from Liverpool?
For brevity's sake, I simply share this post from the astutely named Basketball Fan from said Pacers Digest as he/she/Boomer/it and I think alike:
---
Sad but true its why when Paul George said he's going to leave I can't really be that upset sure I wish he did it where we could get something good out of it but really he knew what we should've known all along.
We are not winning anything with Bird running things and the Simons settling for mediocrity.
The Lakers despite their down period aren't settling now it could blow up in their face but they are going down guns blazing. The Pacers will never do that.
---
I concur with dude/non-dude/Etch-A-Sketch 100 percent.
Pacers owner Herb Simon usually gets the equal of a (rhymes with snow mob) from local fans and media because he "saved" the franchise from moving by buying the team from worthless Sam Nassi in 1983 and thus has gotten a free pass in asking for local tax money to subsidize the team when it stunk during the previous decade (they missed the playoffs four straight years from 2007-2010) while seeing the team fail to bring a world championship to Indianapolis despite multiple opportunities to do so. Along with his right hand man Donnie Walsh it seems like Simon probably isn't too concerned about winning the NBA title as he looks to avoid the IRS or add even more people to an already inept front office  that includes Bird, Pritchard, Walsh and whatever the f— Quinn Buckner does to draw an extra non-announcing paycheck. The polite way to put it: if I want to win the World title, I'm not making this deal the same year I'm making this turd sandwich of a deal…..nor am I following up with trading a first round pick to give this #!$$! $14 million a year or finally paying $10 million for a man who was so worthless that a D-leaguer was getting his minutes while eventually scoring as many points in the 2017 NBA playoffs as, yep, the person who is typing this. With Bird at the helm and Simon backing him up on these moves instead of getting actual NBA talent to regularly play NBA games, the results speak for themselves.
And now the drama continues.
The NBA's free agency period begins in a few days. I was hoping that whoever was running the Pacers would at least look like they had SOME kind of plan going other than acting like it was all bada— to get the 7th seed by competing down to the last game of the regular season for a lowly playoff spot each year.
Alas, I think not.
So the best thing for me to do is to get ready for more PG related drama and more inept Pacers front office work while taking a page from fellow native Hoosier Michael Jackson: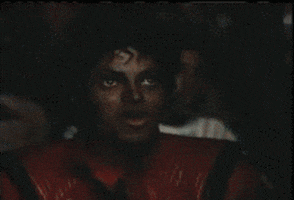 Your move, young Pritchard.
As for Bird….for all the good you did from 2012-14, even the iconic Stevie Wonder can see that you and your boys really f—–d things up these past three years. But if your boss approves and wants to give you and your boy Walsh a lifetime gig, so be it.
I said long ago that an organization's commitment to Walsh-who oversaw the team's self-destruction after the 2004 brawl in Detroit as he allowed Ron Artest to go full Ron Artest- is a commitment to mediocrity. And since Walsh still picks up a hefty check from the Simon clad, it's best for me to not expect much else.
Best wishes to PG13 wherever it is he may end up at. Meanwhile I shall prepare for the TJ Leaf era and assume Bird's fetish to find the next Larry Bird to go with the next Nate 'Tiny' Archibald will continue to dominate the team's mindset no matter what job title he may have. As for Pritchard, as mentioned on earlier posts dude's the man who once picked a senior citizen in training over future Hall of Famer Kevin Durant the last time he got to run an NBA franchise. That turned out real well. So call me skeptical about TJ Leaf being the new modern day warrior of professional sports.
Hope this time you can do better, Big Kev. Admittedly after Bird's past three years, you probably couldn't do any worse.  And I'll give you this much-at least there's no more Lavoy Allen on the roster, and since I assume Leaf has a pulse that's one upgrade for 2017-2018. May be the only one, but one nonetheless.
Jeff
fitzthoughtsblog.wordpress.com