Sunday evening in central Indiana and another paper due in six days. Basically the summer months have usually gone like this: get up at 6 am….work 10 to 10 1/2 hour day on weekday and 4 to 5 hours Saturday morning…return for dinner and walk dog….do homework….and then debate whether I should hit the hay or write on the blog. Sleep usually wins 99 out of 100 times. So might as well throw out some random babble on a rare blog post as I obviously remember just how much junior high me enjoyed looking at Demi Moore then as adult me does today:
-The local NFL team has their 2017 preseason training camp coming up so there's at least one thing to sort of look forward to. Not too excited about having this cliche favoring gent returning as Colts head coach, nor am I sold on having this charismatic man who can't beat the Houston Texans back as his offensive coordinator of choice. My advice to these two individuals: win the season opener September 10 against the Los Angeles Rams. Winning that one game will give ying yangs like myself confidence towards seeing an actual Colts playoff appearance this year. Losing that game? That means another slow start for Ground Chuck and the Sons of Irsay will probably be on the horizon.
So yeah, that opening game's kind of important. On the plus side it will be nice to see NFL games again, Pagano or no Pagano. Not like I'm not going to watch based on my shoddy track record, so there's that.
-I missed watching a rare Cincinnati Reds win today as they beat the Miami Marlins. Now they're only 16 games under .500 as opposed to 17. Meanwhile the team spends $19 million in salary this year on Queen City media favorite Homer Bailey to "pitch" in the team's starting rotation. Bailey's 2017 record as of this typing? Two wins, four losses, and an ERA of 8.56. Meanwhile an individual under the handle mikemo14 called out the Reds for their horrible business sense on the Reds Zone message board. All you have to do is go to the sixth post of this thread with Reds apologist supreme Raisor to know that wouldn't go well. Raisor has a right to his opinion; I have a right to not want to see s—-y baseball on an annual basis from my favorite major league baseball team. For now I agree to disagree with middle-aged Raisor because if he approves of his team losing roughly 58 percent of their games the last four years then that's his choice. Not sure what dude would do if his man Bryan Price actually gets relieved from his managerial duties. Actually best I don't speculate on that one, come to think of it.
TLDR- the Reds are on their way to another last place finish, and it's not like I should have been surprised since I babbled about it last October. I'll just hope for 70 wins to finish out the season and no Bryan Price come November 1. I have low expectations as a Reds fan, after all.
-Apparently this ex-Washington Wizard will be in the Indiana Pacers starting lineup this year as well as this ex-Sacramento King who was once a Pacer a few seasons ago.  Not sure if either can get the team will help the team win more than 32 games next season, but not my team nor my money to spend. Meanwhile our pals at Pacers Digest seem to approve of Victor Oladipo in what should not be too much a surprise. Again, low expectations for these dudes as I predict a record next year of 32-50 but won't be shocked to see 30-52.
-Went to two Indianapolis Indians games this summer. The Triple A affiliate of the Pittsburgh Pirates won one and lost the another by jobbing 1-0 in giving up the only run in the top of the 9th. As that loss was on a Monday night and I had to be at work at 7 the next morning, no complaint about the game going by quick nor with the Indians doing their Dollar Menu gimmick for concessions. Nice to do something other than homework on a Monday night for once, so that's a good thing. Not so good: the team's 2017 ticket prices.  However a lawn seat ticket is less than attending an evening iMax movie (or at least it's lower than the last time I went when it was $13.50). In any event I like to go to at least one game a year so mark that off the list of ways to avoid doing homework.
-You're not surprised I stopped to get a free haircut in the midst of writing this. Can't pass up free stuff these days.
-This week is the one year anniversary at the current gig. Recap of said events from this post: 7-25-16: The First Day in Westfield
-On the shoe front, increased walking led me to finally have to throw my 1987 Nike Air Trainer 1's into second status as both shoes now have holes in the sole. As I am too cheap right now to go buy new shoes, I broke out a pair of old school Nike Air Max 90's that I had worn like three times in ten years. They're still holding up. Photo example of said shoes: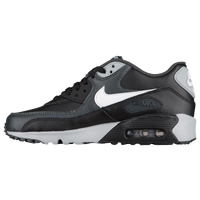 Good to use thus far. Will probably need to break out the wallet for a new pair soon….or at least do some scanning on eBay.
-One other note from said Indians games: the Saturday night one saw our section win coupons for free Grand Slam Breakfasts from Denny's. They gave a ton of coupons-like a dozen or so. So I went with the family to a Denny's off of the interstate in scenic Lebanon yesterday after work. Total fare for three before adding tip: NINE BUCKS. I'll take it. While that may make my weekend a sad one if that was the highlight (save for writing this blog post), my wallet is thankful nonetheless.
Family has more coupons to use by a deadline date in mid-October. Expecting a couple more Saturday meals at said Denny's in future weeks. One other positive: they now pull the same gimmick that Burger King and Wendy's do in serving more than just six flavors of soda. So I got three Vanilla Cokes for my $2.39. Yeah, doesn't take much for me to get hyped these days.
-This post was not the first time that I have referenced a John Cusack movie.  For a Cusack movie with an Indianapolis Indians connection and your "might as well throw this s–t in at 9:30 pm" tidbit of the night, the 1988 Cusack film Eight Men Out was filmed at the old home of said Indians Bush Stadium back during my youth. If one figures that film would be part of my VHS collection, one figures correctly.
-Might as well end this post with a Demi Moore GIF because, well, Demi Moore:
No, THANK YOU, Demi.
Happy summer to any and all who read this as work coming up at 7 am followed by two more papers in the next 20 days. Wish me luck.
Jeff
@fitzthoughts
fitzthoughtsblog on Tumblr