Back on a Saturday morning doing, yes, homework. Class starts tomorrow but first assignment is due by tomorrow at midnight. Just took care of it and now am here to post some news and notes from the week:
-decided earlier in the year that I was going to try to find a new place to dine at each week. Criteria was either a) I had never had a meal there or b) I had not had a meal there in the past year or so. Past posts noted visiting Pizza by the Harbour in scenic Sonland City USA; this post notes that last night I bought dinner for the family courtesy of one of the many Pizza King locations in central Indiana. Pizza by the Harbour was cheaper and better, but that didn't stop me from having cold pizza for breakfast since it hadn't stopped me doing just that for the past few decades. At the very least it was nice to have a change of pace from being a cheapskate for places such as this.
-also watched LIU Brooklyn defeat Wagner in the Northeast Conference's NCAA mens' hoops conference finals to earn a trip to the NCAA tournament that starts next week. After hearing references to Marquette and the greatness of Big 10 conference officiating from the ESPN color commentator for the game, I of course figured out that it was none other than Harbaugh family favorite Tom Crean dropping the knowledge on mid-major basketball.  Past posts show my view on Crean's reign of error in Bloomington with the Indiana University program. Safe to say those views haven't changed too much.
-not having three feet of snow is good. Having migraine headaches due to weather change….not so good. Two straight days of said migraines led to sleeping on and off from 7 pm (conclusion of dinner) to 7 am (eating said dinner leftovers for breakfast) this morning. Thankfully a lot better now.
-the Reds Zone message board for those few out there who still care about MLB's Cincinnati Reds is in mid-season form as this thread IMO STILL shows people defending the incompetency of the organization and the less than stellar performance of team manager Bryan Price. Props to poster M2 for calling out the board's resident apologist poster Raisor on pages 7 and 8. Unfortunately for those remaining Reds fans who would like the team to actually look competent once in awhile, Raisor's attitude seems to be the prevalent one with Reds ownership and front office individuals. Hence I again set my expectations low and hope for a fourth place finish in a five team National League Central Division.  Since the team has finished last place in the division for three straight seasons, not like I'm asking for much. Also not like I'm expecting much to change either, so there's that.
-Last but not least ending the post with a GIF courtesy of my elementary school days of one of my all-time favorite NBA dunks from legendary Julius "Dr. J" Erving of the Philadelphia 76ers: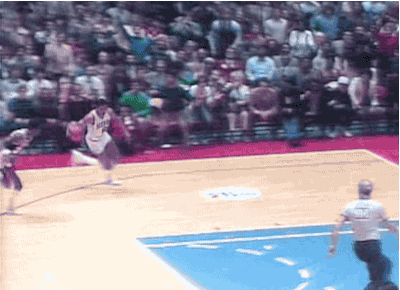 Back next week-happy weekend to all.
Jeff