The week begins with yet another class assignment due Wednesday and the NCAA's March Madness beginning tomorrow night to watch in the midst of completing said assignment. As the title states, some Monday musings:
-The Cincinnati Reds actually had a spring training game televised yesterday on the MLB Network.….so of course I walked the dog. Meanwhile another pair of starting pitchers get hurt and I simply shake my head.
-The Indiana Pacers overcame Thaddeus Charles Young still being relatively worthless by beating a quality team on the road last night via a 99-97 win over Boston. While I am not exactly watching every single minute of their current season, the plan is to repeat last year's strategy by watching their playoff games in full to see what they need to improve (i.e. getting rid of Young and Corey Joseph) while seeing if the team's standard bearers Victor Oladipo and Myles Turner are actually worth building around. Still not sold on Oladipo for obvious reasons but again not my worry since I'm thankfully not like Kevin Pritchard in expecting big things from this current Pacers squad. Personally I'll be satisfied with winning one single playoff series, and to do that I suggest they finish no lower than fifth in the NBA Eastern Conference regular season standings. Meanwhile I eagerly await this overpaid individual to leave the squad as said individual would be on the books for $10 million next year if Pritchard feels Turner still needs an expensive mentor on the sidelines to do whatever the blue f— said individual does to deserve such lettuce.
I'll give the Pacers this: I was figuring they would be on the way to a 50 loss season, so might as well enjoy another playoff appearance while hoping this ESPN favorite finally goes somewhere else outside of the NBA East. As for Pritchard, I assume he and Oladipo get along swell as Oladipo enjoys massive bank in return for getting down in the Circle City. And at least Pritchard isn't one of these two gentlemen who pissed away multiple chances to win the NBA title…..so there's that.
-found I could hit snooze a dozen times or so and still make it to work on time today. Wouldn't recommend it, but if one only has a 10-15 minute commute to said gig then one can take a chance.
-your newest WWE Hall of Famer played a concert at the last Indy 500 Carb Day that I attended. Looking back it was TEN YEARS ago….sounds about right. More props to me for actually remembering the occasion to begin with.
-finally winding things up with a GIF featuring the baller who won the NBA slam dunk contest in the midst of my senior year at Sonland High, one Dee Brown: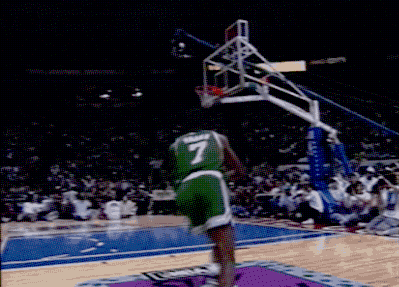 Those Reebok Pumps are among my favorites, hence they're proudly in the sneaker collection courtesy of our pals at eBay from, yes, ten years ago. Shows I had a lot more disposable income before I went back to school. Insert head shake.
Back with more later in the week, thanks to any and all who may read these Fitzthoughts.
Jeff