Monday morning with a rare day off. Might as well ramble as I just finished the rough draft for my paper due on Saturday. (Coincidentally, I did the same thing around this time last year too. Not coincidentally, I'm still single. Shock, I know.)
So what's been going on for the last six months? Among other things I have sold a house….bought another….had several 50 plus hour workweeks…..seen the local NFL team have an apparently broken quarterback while finally saying goodbye to Chuck Pagano after finishing with a crappy 4-12 record without said apparently broken quarterback …..then seeing the local NFL team's front office botch a head coaching hire before bringing back a former assistant whose team just won the Super Bowl in a game that I enjoyed despite the presence of Al Michaels and a horribly inept Cris Collinsworth in the broadcast booth. (Should have taken my own advice from previous babblings: use the mute button, that's why it's there.) So besides having a lot of takes to hyperlink Sports Illustrated articles to, I've also seen a lot of inept Indianapolis Colts football. Also shows you why the locals around here kind of idolize one Peyton Manning from time to time because he usually won football games more than he lost them. Can't say the same about this current crop of men employed by Diamond Jim Irsay and the thus far underwhelming front office replacement for "Big Grig" Ryan Grigson, one Chris Ballard. 
Hopefully Ballard and new coach Frank Reich will actually win some games next year and not employ the likes of Scott Tolzien on the 2018 roster. One can dare to dream, after all.
As for other comings and goings…..
-per family request (and also per needing to sell a house) I took some time off from school for the fall semester. Worked out well. Instead of returning from work to write papers every week, yours truly actually started doing something I haven't done for years: read for fun. (I also went to a NCAA Division III basketball game for alma mater number four Anderson University and saw them win. Total cost: $11. Will need to talk about more next time.) Thanks to the local library (after all, I'm still a cheapskate) I was able to finally check out some books that I had been wanting to read but never got around to because I was writing 10-17 page papers for the fun of using them to write even more 10-17 page papers. Since there's a good chance we'll have a new party ruling Congress by the time I post again, here's a few of the books I'd recommend (along with captioned photos):
Life by Keith Richards and James Fox (2010)
I first knew the Rolling Stones courtesy of their videos from their their 1981 Tattoo You album as the likes of MTV VJ's Alan Hunter and Nina Blackwood would note that these middle aged dudes from England had been dominate in the rock and roll world since the early days of the British Invasion. While I got to see a lot of subsequent videos from both the Stones and lead singer Mick Jagger himself during the course of the decade and my years at the Sonland otherwise known as Noblesville High School (which reminds me of Chad Mitchell apparently plucking down $80 for a Stones Steel Wheels North American tour sweatshirt via their Indianapolis concert appearances during Sonland Junior Year and thus seeing Mitchell wear said sweatshirt with matching red doo-rag on queue once a week for the remainder of his Sonland days) I didn't really know too much about Richards other than reading about his past drug issues. So one day I decided I might as well read about this individual who in recent years has played pirates in Johnny Depp movies while surprising many simply by still breathing. Turned out to be a pretty darn good book. Not many people can write about hanging out with the likes of Bob Dylan and John Lennon with the casualness of me writing about prom dates (which I hope to finally summarize once the decade ends) but Richards does it well and with a good bit of added comedy (for example he notes the antics of popular blog photo op man John Belushi by stating that Belushi "was an extreme experience even in my standards." ) Simply put, Richards would certainly know. And to his credit he produces one of the best autobiographies I have ever read, period.
You'll also get to see photos like this one:
So if I read about Richards, the late Ray Charles can see whose biography I'm going to write about next:
Jagger: Rebel, Rock Star, Rambler, Rogue by Marc Spitz (2011)
One major problem with this book: Spitz has a gimmick where he says (get ready for all caps for this) ME PICK SOMEONE NOT JAGGER-ME WRITE ABOUT SOMEONE WHOLE CHAPTER-NOW ME CLOSE CHAPTER ABOUT JAGGER. Perhaps Spitz was trying to be different, but to be blunt I don't give two s–ts about what Truman Capote wrote about in the 1950's (those are words I don't plan on ever typing again) nor do I want to hear about the marriage issues between Carly Simon and James Taylor. However Spitz does just that with a flourish, and since it's his book it's up to you as the reader to decide whether you want to put up with it or not. Fortunately for me since the book was free for three weeks and since I once again admit that I have the social life of a small inland shrew… I put up with it since the book was a quick read (roughly 300 pages) and again you get to see photos like this:
I didn't just read about the lives and legacies of The Glimmer Twins. Two other books of note:
The Machine by Joe Posnanski  (2010)
Posnanski is one of my favorite sportswriters. For better or for worse (and as written previously on this blog it has often been for worse) I am a lifelong Cincinnati Reds fan. There was a time-albeit in the midst of the Ford Administration- that the Reds were actually not inept; in fact during the mid-1970's said Reds were the best team in baseball known as "The Big Red Machine" because good teams don't give the equal of year-to-year contracts to bad managers who finish in last place every year (which the current Reds regime did last fall). Posnanski gets the job done like rapper extraordinaire Big Daddy Kane as he notes the pressures the pressures the Reds had of actually fulfilling their previously wasted potential by winning back to back World Series titles in 1975 and 1976 after failing previously to capture baseball's world championship in their 1970 and 1972 Series appearances. I also felt Posnanski was fair in his assessment of one of my all time sports heroes, one Peter Edward Rose.  That doesn't happen too often when it comes to media members, so yours truly gives props to Posnanski for not being biased while publicly babbling for the days of Nolan Ryan and multi-purpose stadiums to come back to a sport that is not the cathedral or religious like presence some sportswriters tend to treat it like.
Lastly…..
Sweetness: The Enigmatic Life of Walter Payton by Jeff Pearlman (2011)
When I was in elementary school the Indianapolis metro area did not have a clusterf–k of a pro football team to call its own until the Colts moved from Baltimore during the spring of my fifth grade year in 1984. Before being subjected to the likes of Mike Pagel and Jack Trudeau losing game after game in the pre-Manning era, I had the good fortune to enjoy fall Sunday afternoons as the times to watch Walter Payton and his Chicago Bears on television. Ironically the Bears were not good until said 1984 when they would reach the NFC title game (losing to San Francisco)…but we know what happened with 1985 as the Bears would win their only Super Bowl as Payton would retire in 1987 as the NFL's then all-time leading rusher. Bottom line was as the Colts were as inept then as they are now, first Payton and then the Bears themselves made watching NFL football worthwhile when I was growing up. Payton was a big part of my childhood, and Pearlman notes the good and the bad via the physical price Payton paid for playing through injuries throughout his long and illustrious Hall of Fame career. I enjoyed the book and will remain a fan of both Payton and Pearlman's writing. For a link to those who weren't as thrilled with Pearlman's work, see here.
Even got me to do something I have also long babbled about doing but never got around to: getting a Walter Payton jersey. So if you see someone at the Hamilton East Public Libary sporting one this summer while writing ten page school papers on one of the public computers, you've been forewarned.
Good time to wrap it up. Happy 2018 to everyone as I also wrap up the Chuck Pagano era of Colts football by throwing out the obligatory Pagano clapping gif: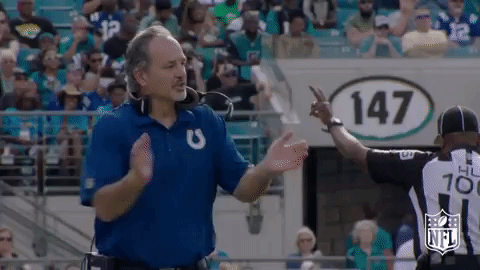 Your turn, Frank Reich.
Jeff