Thursday night in late July here in rainy central Indiana, homework complete (for now) but paper still in progress and due Saturday in the midst of a Demi Moore kick . Five quick Fitzthoughts before seeing if I can finally motivate and finish what I started babbling about a year or so ago so I can finally babble about the first time I actually made it through undergrad in one piece:
-got a letter the other day saying someone was interested in buying my property in McCordsville.  Didn't know I had property there, so you learn something new every day.
-as mentioned previously this week was the one year anniversary at the current workplace.  To celebrate I have three Diet Mountain Dews to drink tomorrow before they clear the fridge out and I lose said Diet Mountain Dews. One can only drink so many Big K products, so I am splurging more on soft drinks instead of waiting for the 59 cent Big K two liter sales. Not great progress compared to a year ago, but progress nonetheless.
-for those of you out there who also had Cam Newton seemingly throw your fantasy football team into the proverbial s—thole during the 2016 season, yours truly feels your pain as yours truly debates on whether said Newton will be brought back as the "keeper" for this year's big money fantasy football league (ten dudes at $50 a pop play for a $300 first prize each fall…and as mentioned before yours truly has never won the league as I perform in the playoffs about as well as Duke did against UNLV in the 1990 NCAA mens' hoops title game. Should I keep Newton as my quarterback and Newton rewards me by having another scrub like campaign on the stat sheet,  he won't be the only one demoralized and I'll have no shot at, yes, pulling a 1991 Duke with this year's season. So I've got a big decision to make in the next few weeks…plus I've got to drag out 50 bucks for said fantasy football draft as well. Maybe I will need to hit those Kroger sales for the Big K after all.
(On the other hand, Newton was the sole reason I made the league title game in 2015 and won $100 with second place, so as of now I'll say I broke even on the last couple of seasons. And remind me not to draft a defensive unit in the seventh round…never works.)
-while taking the chance to note that tonight's dinner came to $1.60 at KFC as I had a soft drink and a free "Go Cup" courtesy of an online survey, I will also note I am getting a lot of Kyrie Irving lectures these days as I am getting lectures from both sides of the proverbial mouth of the Indiana Pacers. One moment I hear that Kevin Pritchard rejected a trade to get someone not named Victor Oladipo for Paul George, yet the next moment I get those in favor of Donnie Walsh infested NBA front offices saying that the great Pritchard tried to trigger a PG for Kyrie trade.  All I know is that I'm not sold on Pritchard the executive, TJ Leaf the pro basketball player or lastly Pritchard's infatuation with said Oladipo.  Lots of hyperlinks to show lots of question marks from yours truly about how big a train wreck this Pacers franchise could end up being in the aftermath of losing a perennial All-Star for the likes of a man named Sabonis. Yeah, count me in as not too thrilled with the team's direction. But then again that's been the way things have been since the Reagan administration, so no new news there.
Either way I will be on the lookout for more Irving related drama as a nation turns to ESPN's favorite son LeBron James to see where he ends up going to at the end of next pro hoops season. As long as he's not in the same division-better yet, the same conference-as said Pacers then no complaints from this gent.
-Lastly finishing up with two takes: first a GIF of the Day because I might as well throw out a Demi Moore GIF one from the 80's to get it out of the system….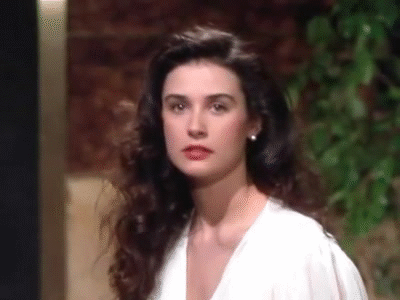 ……and lastly it's about time for me to put up or shut up and talk about a certain date before graduation that was kind of important back in the day before heading off to college number one.  Time to finally write about it after talking about how it almost didn't happen  in the first place and hinting about it one too many times.   (See current blog post photo for a hint.)
Best wishes to all and thanks to anyone out in Internet land who read this on the Fitzthoughtsblog as we near the end of summer 2017.
Jeff
@fitzthoughts
fitzthoughtsblog on Tumblr